"Culture is what drives the most successful companies, and you can't get that remotely." — Nick Campisano
Today's issue:
Gateway creates path to tech hub in NuLu


East coast packaging co. expands here

Norton sports and learning complex lands $6.5M

Red e App launches health management app


Rainbow Blossom adopts sensor tech

Experts at UofL working on better antibody test


Scrapbook!



June 16, 2020
Gateway to NuLu, image courtesy Campisano Capital
NuLu is known for its art galleries, specialty shops, and upscale restaurants. It's about to get a whole lot cooler.
Earlier this month Venture Connectors held their first virtual meeting featuring Nick Campisano, founder of Campisano Capital, and Stacy Griggs, CEO of El Toro to talk about Gateway to NuLu.
Campisano currently resides in New York but he is a native of Louisville. He plans on bringing the fast-paced environment of the Big Apple to the heart of our city with Gateway to NuLu. His current projects also include Derby City Hotel, the James on Frankfort, and the Residence Inn at Old Henry, all in NuLu.
A community has to have three main components: People have to be able to live, work, and play. There's plenty of play in NuLu with the abundance of bars and restaurants, apartments and hotels. But if you have fifteen employees, then you likely have no place to put them. So that's where Gateway comes in. "I think that NuLu has a substantial amount of momentum to become an entrepreneurial hub for Louisville," Campisano said.
Gateway to NuLu currently has two other anchor tenants: EdjAnalytics and Lodgic, without which the building's expansion from 56,000 square feet to 72,000 square feet would have been impossible. The Gateway building was originally the Albert Hess Furniture store from the early 1900's, "so the building is still authentically Louisville," Campisano assures. Some of the original hardwood floors have even remained.
But is this much office space necessary in a post-COVID-19 world? Both Campisano and Griggs seem to be in agreement that people will get tired of working from home. And people will want to come back to work when their office building has a focus on employees. Yes, there's going to be ping pong tables, a bourbon lounge, an outdoor patio area, and even a barber shop. And that's not all. There's going to be a daycare building to meet the needs of modern working parents, as well as two restaurants, which will provide healthy options.
There is also El Toro accelerator, which allows for smaller businesses to rent available space with a one-year lease, instead of being locked into a typical five-year commitment. Campisano foresees that office space will be just as essential as it was before COVID-19. "At the end of the day," he says, "culture is what drives the most successful companies, and you can't get that remotely."
El Toro is planning to move in on July 15th if the project is ready, or whenever pandemic restrictions are lifted.
Share this story!
Packaging Technology Group opens Louisville facility

Packaging Technology Group, a Boston-based company that makes specialized packaging for the bio-pharmaceutical industry, has opened a new facility in Louisville. The 42,000-square-foot facility will produce sustainable thermal materials for the use in shipping medicines to patients and pharmacies. The facility is located in Fairdale.

Packaging Technology Group's specialty is making natural, cellulose packaging designed for shipping specialized medications. Many top pharmaceutical and biologics companies use the temperature-sensitive thermal packages for their products. A key feature of the packaging is that it can be recycled along with any other curbside recycling. The company claims to have saved over 450,000 pounds of packaging from landfills and expects to double that number in the next year. The company also offers reusable packaging, manufactured with non-toxic materials.
"Many pharmaceutical companies that are targeting carbon neutrality are embracing greener manufacturing methods to reduce carbon footprints," said Bill Blezard, company CEO. "Our goal is to be the sustainable thermal shipping partner, regardless of how complex our client's needs are."
Humana donates $6.5M to sports and learning complex

The Norton Sports Health Athletics and Learning Complex, slated to be completed by the end of the year, just got a major boost. Humana has announced that it will donate $6.5 million to help finish construction on the Louisville Urban League's project.
The complex will include an indoor and outdoor track, a bowling alley, an interactive rock-climbing wall, a learning lab, entertainment and event space, and community green space. The project, which had raised $44 million toward construction costs, is aiming for $50 million, plus an extra $5 million for operating expenses. With a focus on the indoor track season, the facility is expected to draw "tens of thousands of people" and have a huge economic impact.
Louisville Urban League president and CEO Sadiqa Reynolds said, "Through this project, we are cleaning up a brownfield, improving health outcomes and catalyzing economic development. We are not just helping to revitalize a community but the human spirit."
Rainbow Blossom turns to software for food safety

Rainbow Blossom, a natural foods supermarket chain in Louisville and Southern Indiana, is going high tech to keep food safe. The chain, which has been a mainstay for groovy groceries in the area for over four decades, will use software and wireless sensors to collect data and notify team members when perishable foods are about to spoil. The company is using real-time monitoring tech from OpSense, a SaaS platform with offices in Washington, D.C. and Louisville.

The sophisticated sensor technology includes automated messaging and alerts, task management tools, checklists, and reporting to help manage cost, inventory, compliance and maintenance. The software will provide 24/7 data about temperature and humidity levels in walk-in freezers, refrigerators and cold storage cases.
Louisville's Red e App launches health management solution
Red e App, a workflow communication and file distribution platform designed for the non-desk workforce, has announced the launch of Healthepassport. The new solution, which is integrated into the Red e App platform, aims to protect those returning to work by helping companies "automate, manage, communicate, educate and report on the health and safety status of every employee."
HealthePassport offers contact tracing either manually or via El Toro's mobile location analytics and provides a HIPAA, CDC, and OSHA compliant portal to monitor and manage workplace health.
Jonathan Erwin, Red e App founder and CEO, said HealthePassport provides a way for businesses to reopen with confidence that they're implementing necessary safety precautions. "Without comprehensive and automated solutions that inform fast, decisive action, businesses will face two extreme options with any COVID-19 diagnosis: do nothing, or shut down an entire building, campus, or area. The former places all employees at immediate risk of infection, while the latter places all employees at long-term risk."
UofL will test next evolution of COVID-19 antibody test
The University of Louisville will conduct validation studies of a next-gen COVID-19 antibody test developed by Qualigen Therapeutics, Inc. The studies will involve hundreds of patient samples in the quest to find a reliable and effective test for SARS-CoV-2, the virus that causes COVID-19. Both Qualigen and UofL hope the test will mark a significant improvement over current antibody tests, which return a high number of inaccurate results.

Qualigen's product, called FastPack Pro, is an offshoot of its FastPack system tests for prostate cancer, thyroid function, metabolic disorders and research applications. The FastPack systems have been in use for over 20 years.
The team of researchers at UofL's Center for Predictive Medicine for Biodefense and Emerging Infectious Diseases will conduct the validation studies and provide validation data to the FDA, where they hope to gain Emergency Use Authorization.
African American Museum team wins Ignite Louisville Challenge
Leadership Louisville, a civic engagement and professional development organization, has named the winner of its 23rd annual Ignite Louisville program. The program celebrates "community acceleration teams" that work to advance local nonprofits. This year's winner is Roots 101: African American Museum. The team took home the top prize of $1500.

The Museum, located in Louisville's downtown Museum Row, educates visitors about African American experience and culture. The team's project focused on fundraising and marketing, and raised over $30,000 for the museum.
Other finalists included teams supporting The Big Table, a group that brings people together across cultures via potluck diners; Critically Loved, an organization that helps families with critically ill children; Families for Effective Autism Treatment; the Kentucky Science Center; and South Louisville Community Ministries.
After the 1937 flood, Louisville built a 29-mile system of walls, levees and pump stations. The system is among the largest in the country.
Quincy Street just happens to be the home to one of those concrete walls, which, unfortunately divides the street.
David Lasoski, a geotechnical engineer in the Levee Safety Program with the Louisville district of the U.S. Army Corps of Engineers, told Erica Peterson of Curious Louisville the reason behind it.
Quincy Street before the wall, circa 1949, image from Metropolitan Sewer District
In order for the government to be able to use federal funds to build the levee system, Louisville had to provide the right of way for it. Louisville had to spend a lot of money to get that right of way--except on Quincy Street.
"They already owned the right of way, in the center of Quincy Street," Lasoski said. "The decision was made by the city of Louisville at that point in time to use that street as the land that the floodwall was going to be built on."
During construction, photo courtesy Metropolitan Sewer District
While we're sure the original residents of the street were not fans of the wall being the first thing they saw when they walked out their front doors, current residents try to make the most of it. Word has it the wall is sometimes used as a movie screen where neighbors can watch old movies (complete with a speaker and sound system.)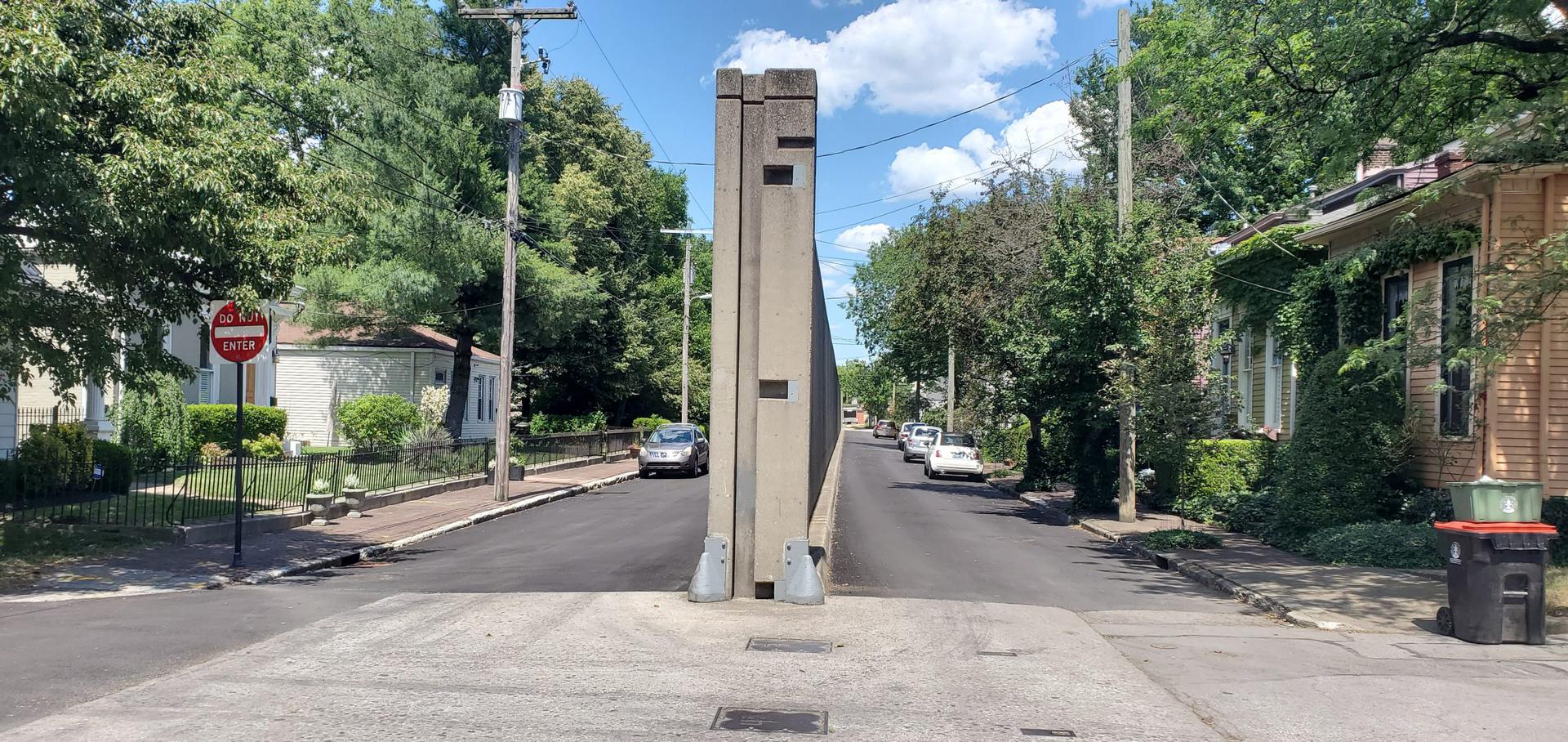 Image by staff photographer.
Share stories, offer suggestions, or comment!